[rev_slider alias="lama-ole-en-course" /]
For the first time traditional Buddhist Lama Ole Nydahl will give a public lecture in Minsk.
  The lecture will focus on the main historical and practical aspects of the Buddha's teachings. Lama Ole Nydahl will explain how one can apply Buddhist methods in modern daily life and realize the full potential of mind for the benefit of all beings. After the lecture the Lama will also answer questions from the audience.
Lama Ole Nydahl will be speaking English with consecutive translation into Russian.
The lecture will take place in Concert Hall "Minsk" (Kastryčnickaja St. 5, Minsk) starting at 16:00.
You can by tickets in advance on-line.
The amount of tickets is limited by the hall's capacity.
So please buy your tickets in advance for guaranteed entrance.
Price: 25 BYN (ca 11 EUR)
Contact: +375 29 7656104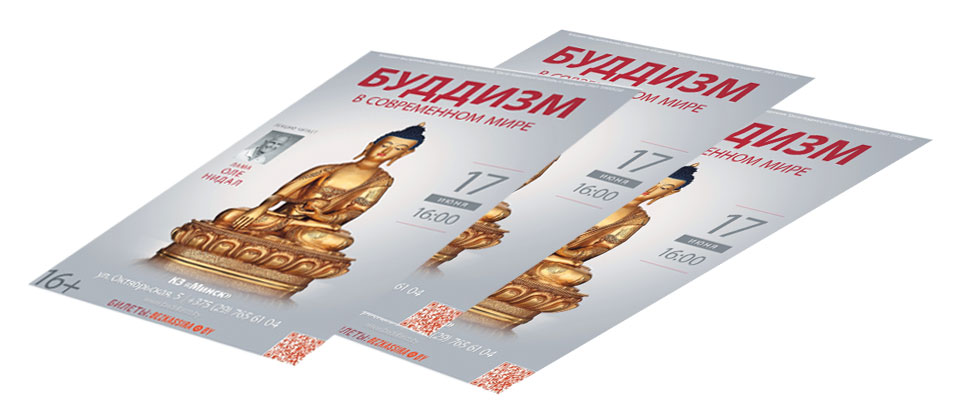 Lama Ole Nydahl is a master of Buddhist meditation, author of a dozen books published in 45 countries in more than 20 languages. At the end of 1960s he and his wife Hannah spent several years in the Himalayas, where they were learning and received the entire transmission from His Holiness the 16th Gyalwa Karmapa, Rangjung Rigpe Dorje, "the king of yogis of Tibet". It was upon his teacher's request that Lama Ole began to teach Tibetan Buddhism to people in the West; in the very beginning of his activity Lama Ole received support by Margrethe II, Queen of Denmark. Over more than 45 years of teaching all over the world Lama Ole Nydahl and his wife Hannah have founded around 700 Diamond Way Buddhist centres of the Karma Kagyu tradition.
On June 13, 2015 Lama Ole Nydahl received the award for dialogue, coexistence and peace of the UNESCO Association for Intercultural and Interreligious Dialogue in Malaga (Spain).
The award was granted to him and his late wife Hannah Nydahl for their contribution towards the freedom of speech, compassion and the development of peace and goodness.
In 2016 Lama Ole Nydah was awarded Agvan Dorjiev Foundation's order for spreading the Buddha's teachings all over the world, establishing Buddhist centres in many countries and bringing timeless benefit to an immense number of people.
You can read in more detail about Lama Ole's life, teachers, and Buddhist methods on the official web site.
Karma Kagyu finds its roots in the teachings given by the historical Buddha Shakyamuni. It developed in India and later Tibet, and became a practical way to Enlightenment. Over about 1500 years the great Buddhist accomplishers (mahasiddhas) such as Tilopa, Naropa and Maitripa in India and later their heroic yogi successors in Tibet, Marpa and Milarepa, have formed a tradition that proved effective for lay people. Starting with the XIIth century the unbroken incarnation lineage of the Karmapas ensures the existence and power of the school.
Modern Buddhist masters, such as His Holiness the XVIIth Karmapa Thaye Dorje, Sherab Gyaltsen Rinpoche, Jigme Rinpoche, Nedo Rinpoche, and Jamgon Kongtrul Rinpoche continue to bring oriental wisdom to interested people around the world and support the activity of Western Buddhist centres everywhere.
1.How to get there from National Airport" Minsk " to Railway station "Minsk-Passazhyrski" and Bus station "Centralny"
Using bus no. 300Э or minibus no. 1400 or 1430 (direction: National Airport" Minsk " – Bus station "Central" . stop: Bus station "Central".),It takes around 50 minutes
2.The route from the Railway station "Minsk-Passazhyrski" and Bus station "Centralny" to the lecture hall
Travel time without traffic: 12 min., route length: 1.4 km.
Buses: 127, 901. 3 stations to "Dinamo" station.
460 m on foot to Concert Hall "Minsk".
Taxi
Uber (online)
Yandex taxi (online)
Taxi service Friday 7500  +375 29 13-37-500
Taxi 7788  +375 29 30-60-778
Taxi 135 +375 29 33-33-001
Parking
There are 70 parking spaces near the lecture hall. Parking is also available along the Lenin str.
On the spot you can buy cold/hot drinks and snacks. On the second floor you can find cafe "Spatkanne" with hot meals.
Near Concert Hall "Minsk" there are a few restaurants:
Mesto pro edu
, Kastryčnickaja St. 5a
Rodny Kut
, Kastryčnickaja St. 5
Tri mushketera,
Kastryčnickaja St. 5
Map  – Cafes, bars and restaurants.
For children between 5 and 12 years of age we are going to organise the screening of cartoons in the lobby of the lecture hall. Please let us know via minsk@buddhism.by if you are going to take a child along.
We are not going to prepare anything for children under 5.
For quality mobile coverage and Internet we can recommend the "Tourist" tariff of the mobile operator Velcom.
The easiest way to get connected is to do it upon arrival at the Central Bus Station in the Euroset shop at No. 6 Bobruyskaya St. (enter the Galileo mall and turn right).
Contact
If you have any questions feel free to email us minsk@buddhism.by
Organizer
The organizer of this event is the Center of Buddhist Culture and Traditions